TEKFest is an annual Fundraising Trade Show and Product Showcase Event lead by TKW by partnering with key community members, suppliers, vendors and manufacturers.
The event gives everyone the opportunity to get a hands-on experience with tools, products and equipment.
Location
2500 Leaphart Rd., Suite A West Columbia, SC 29169
Hours
Saturday, April 29th - 9AM to 6PM
Sunday, April 30th - 9AM to 3PM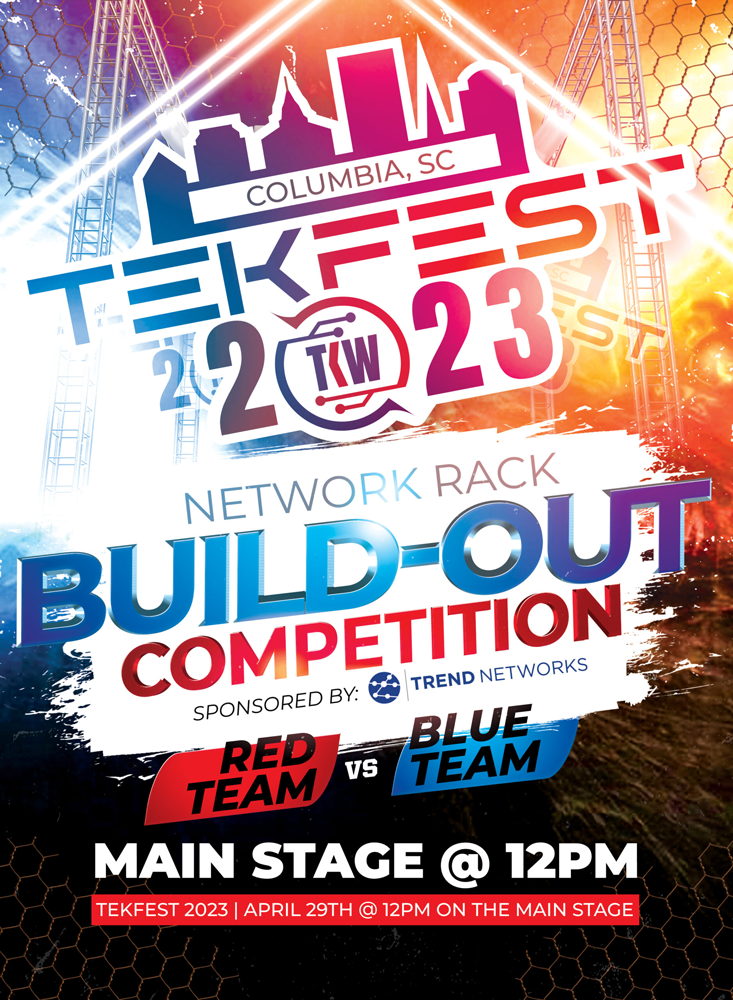 The event gives everyone the opportunity to get a hands-on experience with tools, products and equipment they may not otherwise have gotten the opportunity for while also driving toward the goals of:
1) Raising funds and awareness for an annual Community/Charity Projects to give one deserving organization a complete Network and Technology Upgrade at absolutely no cost to the recipient.
2) Strengthen relationships with Suppliers, TKW Members and Manufacturers through engagement, exposure and feedback to grow the community, better the products and services while elevating the industry as a whole. The money raised for this event will go back into the TKW Community to help fund future events as well as the annual TeksGiving Community Projects.
3) Last Year's Community Project was the biggest so far with over $175K worth of time, labor and materials donated to give Berachah Church and Community Outreach Center in Pennsylvania a Complete Network Infrastructure, Access Control, Security and Surveillance makeover at absolutely zero cost to the recipient. TKW hopes to continue this for years to come, and with your help and these events, the dream will stay alive for generations to come! Join us and be extraordinary! TEKFest 2023 is just the beginning, and we want you to be a part of it.
4) This year, TEKFest is hosted by Cable and Connections at their headquarters in Columbia, South Carolina with 20 Vendors, Live Music, TEKTalk LIVE Classes, Giveaways, Food Trucks and so much more….
5) The best part? It's 100% FREE to attend!
WHO IS TEKNOWLEDGE WORLDWIDE?
Teknowledge World Wide (TKW) was founded in 2021 by four entrepreneurial business owners from across the country and is a registered Not For Profit Charity and Community-based organization headquartered in Philadelphia, PA. The TKW mission is to bring like-minded technology businesses and  individuals together to share knowledge and teach each other by example while making impactful changes in the community through philanthropy.
The founding members of TKW utilize their expertise to promote the core principle of "Community Over Competition," all while encouraging industry best practices and the use of the most efficient tools and materials. Furthermore, they assist and educate members of the technology community, to help elevate the level of craftsmanship within the entire community and thus the industry as a whole.
TKW has grown exponentially in less than two years and has hundreds of members across North America and abroad. They include Integrators, Contractors, Installers, Manufacturers, Suppliers and Distributors all working together to understand the key principles which lead the community. The guiding principle not only helps all parties succeed but also lends to personal growth and makes for well-rounded individuals.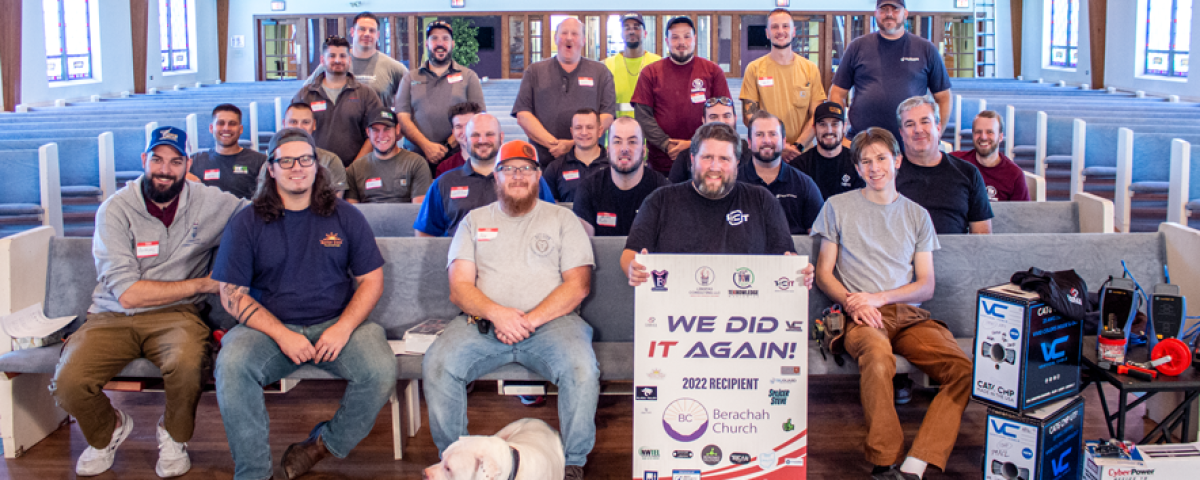 This Year's Elite Sponsors
Elite Sponsors of the TEKFest Event have generously donated funds to TeKnowledge Worldwide. 100% of these funds go directly to the TKW Charity
Official TEKFest 2023 Exhibitor Line-Up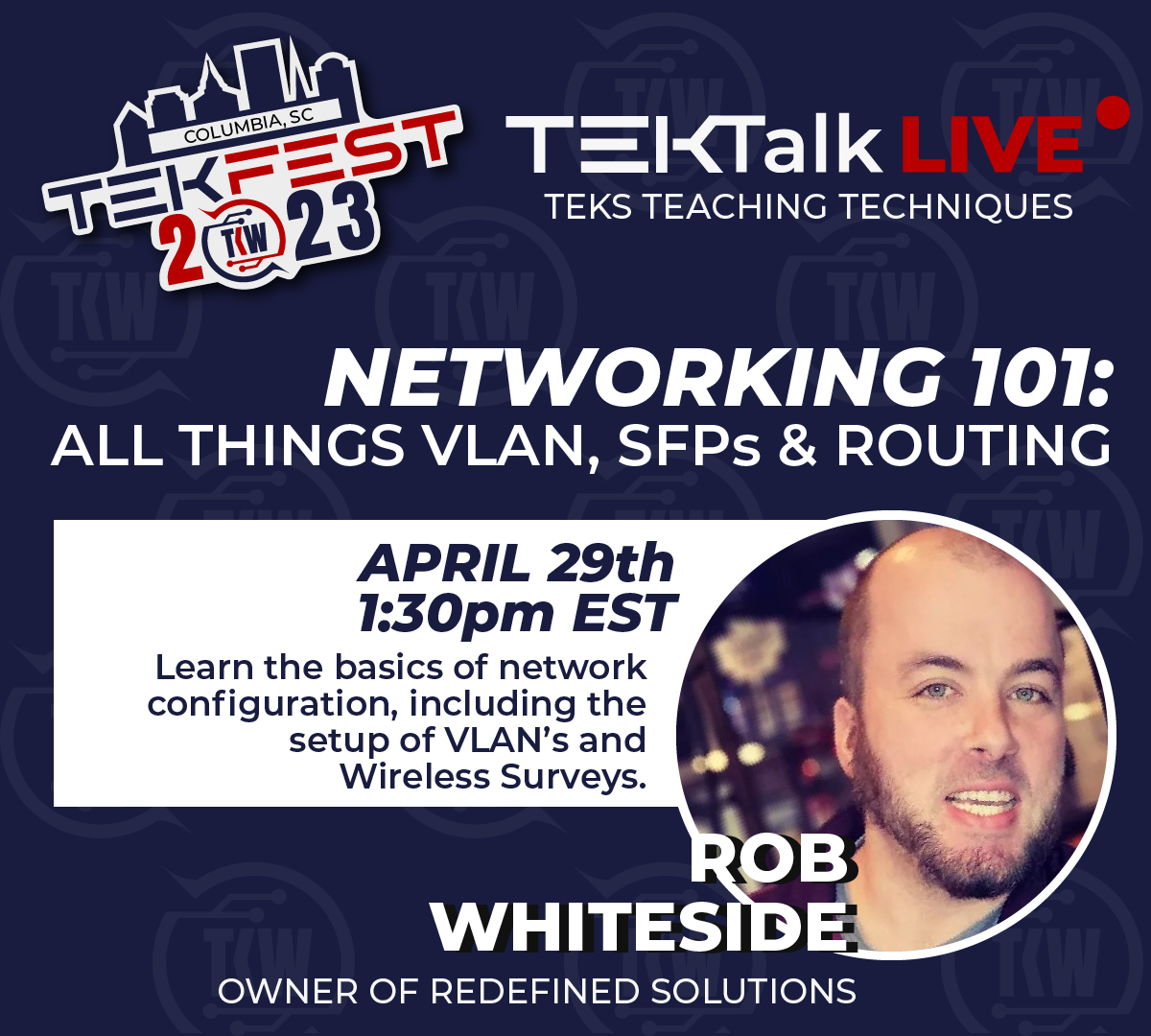 NETWORKING 101: ALL THINGS VLAN, SFPs & ROUTING
Learn the basics of network configuration, including the setup of VLAN's and Wireless Surveys
@redefinedsolutions
Saturday, April 29th @ 1:30pm EST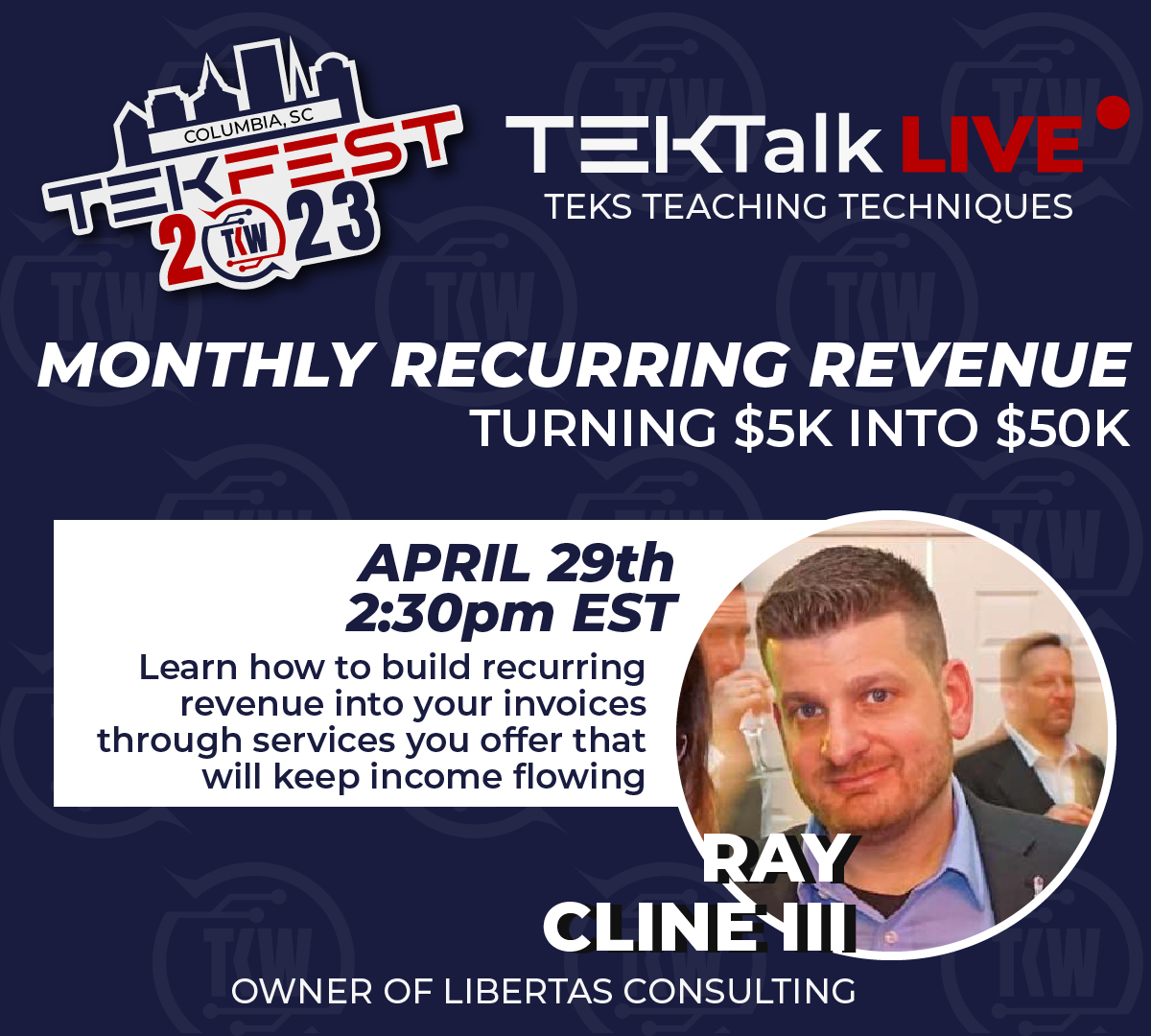 MONTHLY RECURRING REVENUE: TURNING $5K INTO $50K
April 29th @ 2:30pm EST
Learn how to build recurring revenue into your invoices through services you offer that will keep income flowing
@libertasray
Saturday, April 29th @ 2:30pm EST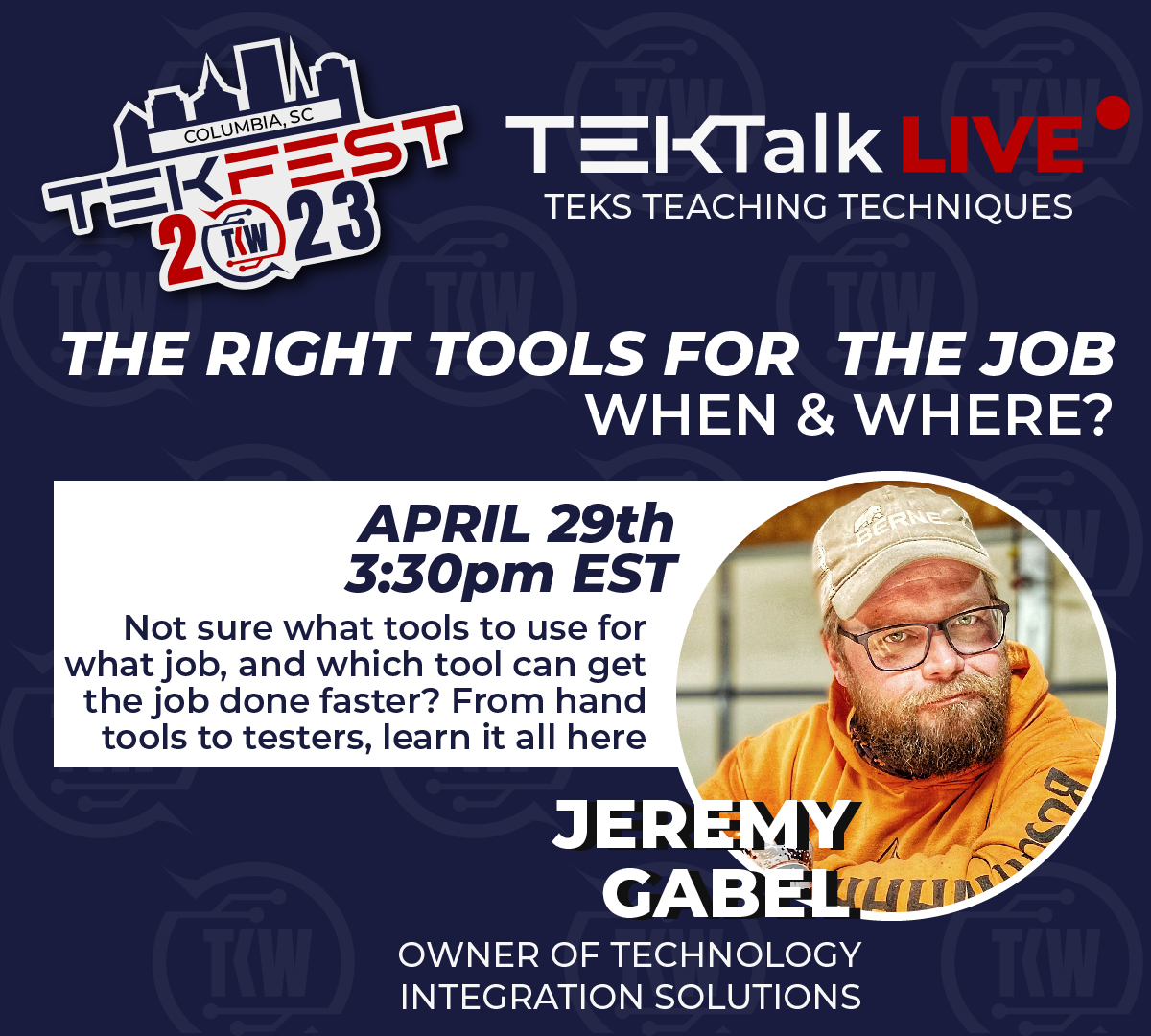 THE RIGHT TOOLS FOR THE JOB: WHEN & WHERE?
Not sure what tools to use for what job, and which tool can get the job done fast? From hand tools to testers, learn it all here
@technologyintegrationsolutions
Saturday, April 29th @ 3:30pm EST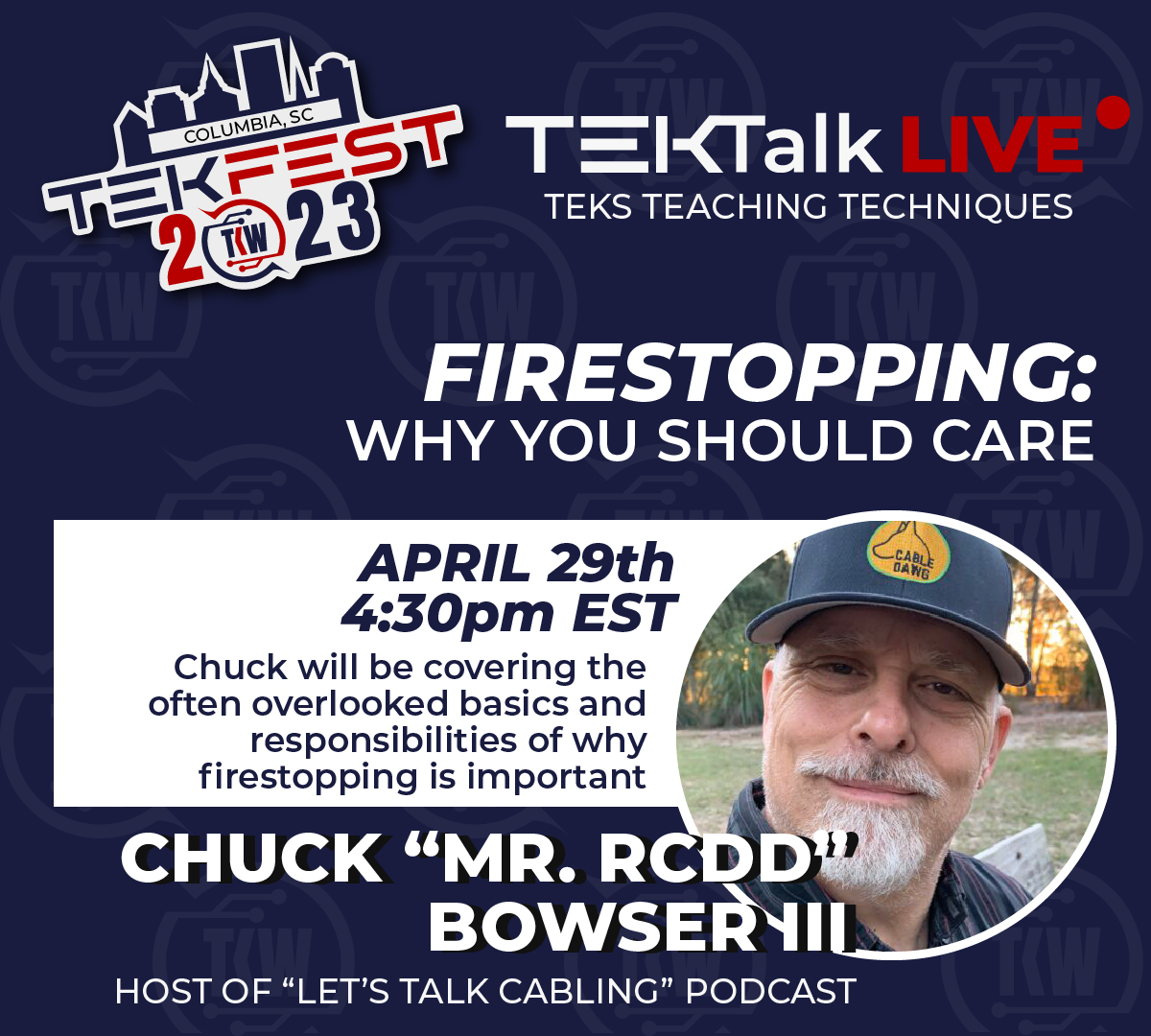 Chuck "Mr. RCDD" Bowser III
FIRESTOPPING: WHY YOU SHOULD CARE
Chuck will be covering the often overlooked basics and responsibilities of why firestopping is important
@letstalkcabling
Saturday, April 29th @ 4:30pm EST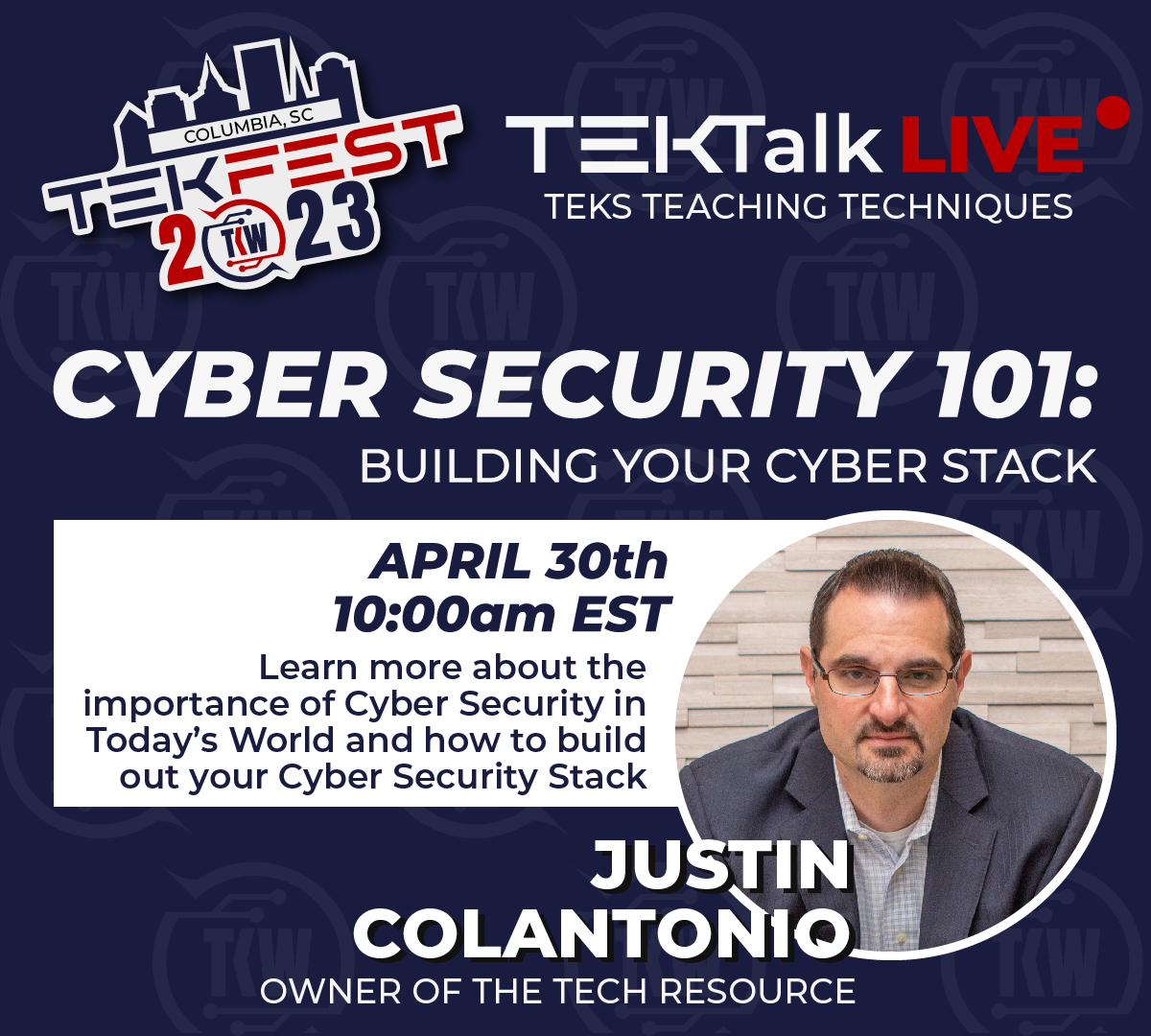 CYBER SECURITY 101: BUILDING YOUR CYBER STACK
Learn more about the importance of Cyber Security in today's world and how to build out your Cyber Security Stack
@colantj1
Sunday, April 30th @ 10:00am EST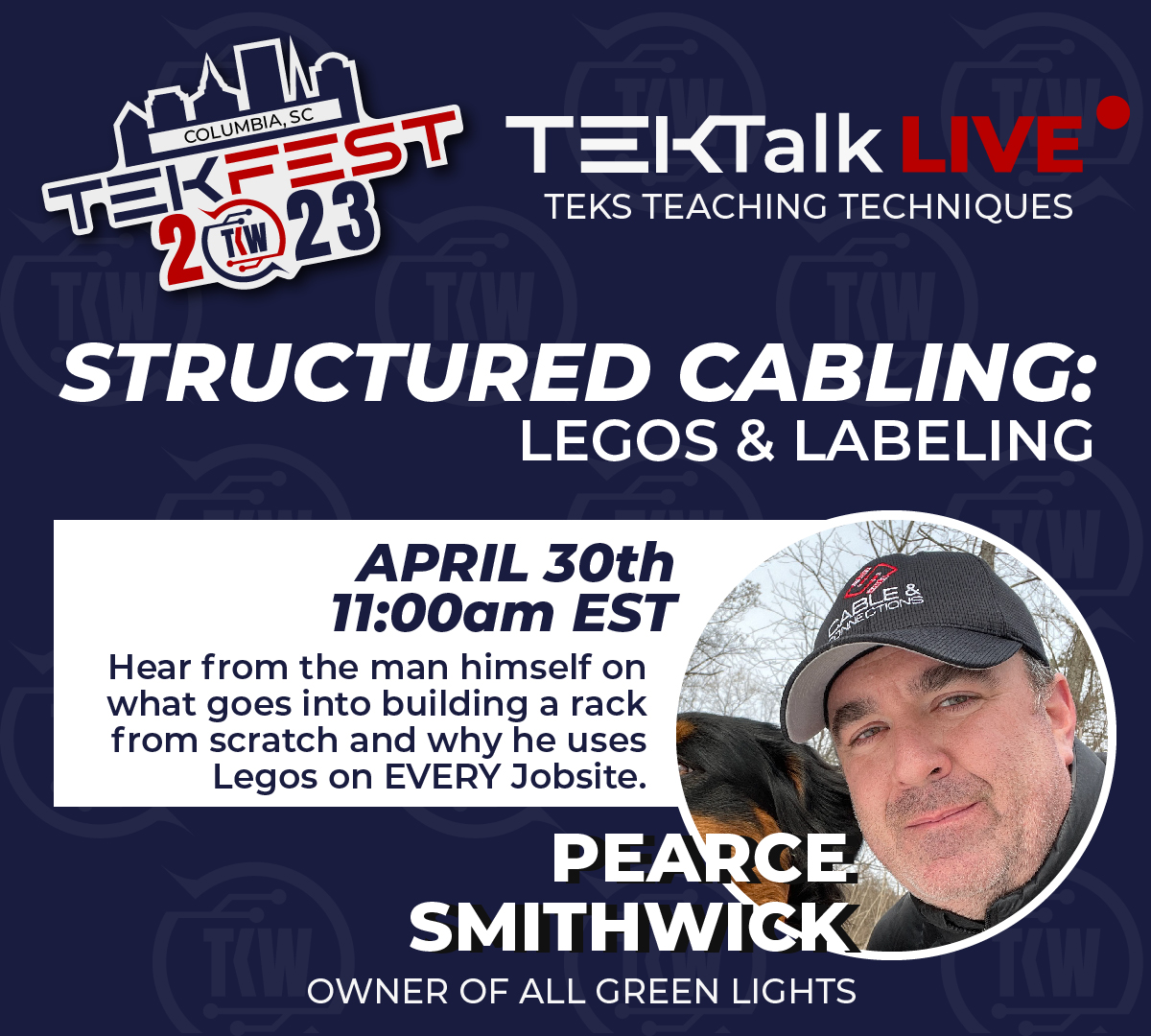 STRUCTURED CABLING: LEGOS & LABELING
Hear from the man himself on what goes into building a rack from scratch and why he uses Legos on EVERY Jobsite!
@allgreenlights
Sunday, April 30th @ 11:00am EST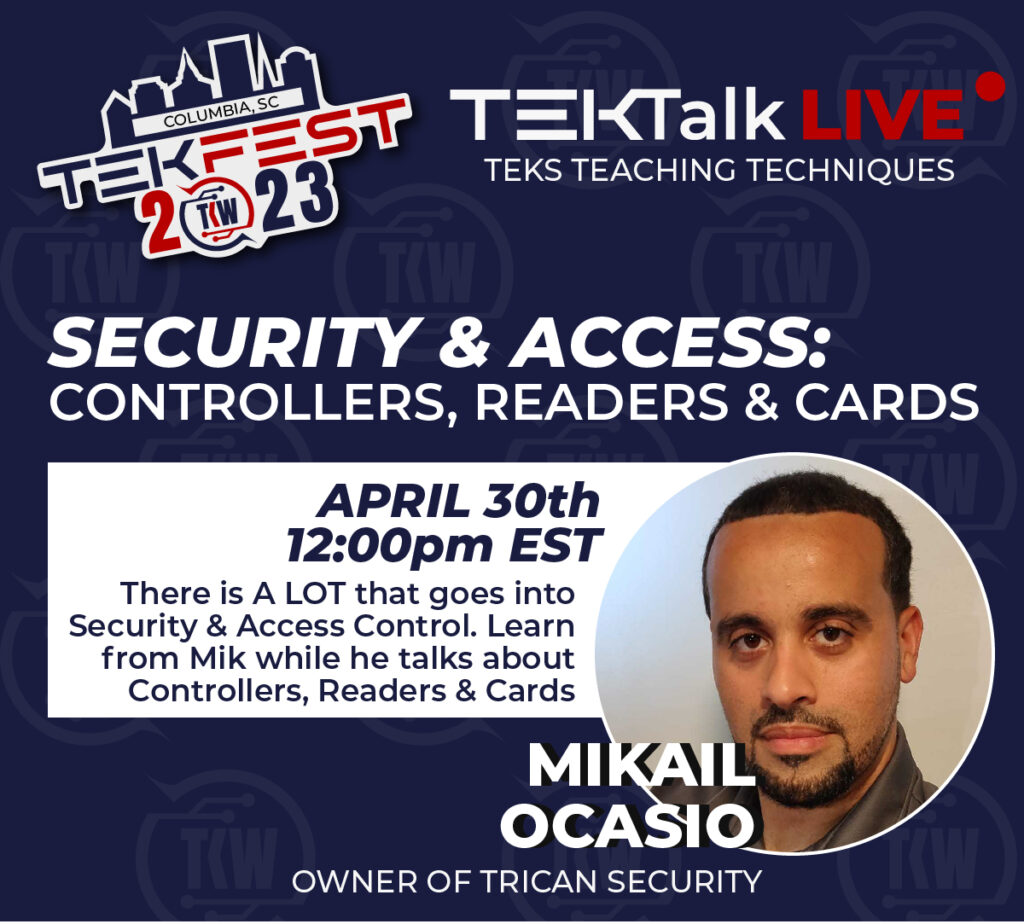 SECURITY & ACCESS: CONTROLLERS, READERS & CARDS
There is A LOT that goes into Security & Access Control. Learn from Mik while he talks about what he's learned over the years about Controllers, Readers and Cards
@tricansecurity
Sunday, April 30th @ 12:00pm EST